SAN FRANCISCO — The race on American streets to develop self-driving cars has attracted increasing scrutiny in recent months, but some competitors — China-based tech startups — have received little mainstream attention. 
China-based companies have driven hundreds of thousands of test miles on California's roads in recent years, according to California Department of Motor Vehicles records. Of the 40 companies with licenses to try out autonomous vehicles in California, 10 of them are firms based in China — a bigger share than any other foreign country (Germany, Israel and Japan follow China, and each has two licensed companies in the state). The China-linked companies operated 124 cars in the state and drove 438,379 miles in the most recently reported year, the 12 months ending Nov. 30, 2022, according to reports that they filed with state authorities. 
The Chinese test cars haven't drawn much public attention because of the smaller scale of their tests compared to their U.S. competitors, including Cruise and Waymo, which operate fleets in major cities such as San Francisco and Phoenix. 
But scrutiny of Chinese autonomous vehicles is increasing among lawmakers, as U.S.-China relations have deteriorated in recent years and as self-driving car tech develops. Some members of Congress are pushing for a crackdown on the Chinese car startups, raising concerns about competition, data privacy and China's human rights record and echoing complaints about other Chinese-controlled companies, such as TikTok. And the Biden administration is expressing similar worries.
The fears about Chinese autonomous vehicles are theoretical and wide-ranging: from concerns about what type of data Chinese tech companies are collecting to how Beijing might use a fleet of robot cars in the worst-case scenario of an armed conflict with the United States.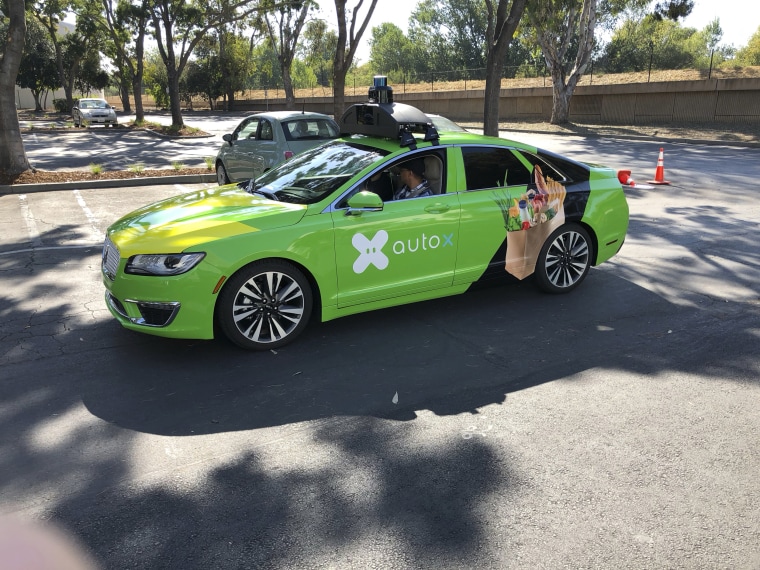 Brad Templeton, a consultant and a former member of Google's self-driving car team (now Waymo), said that a fleet of robotaxis could be "a potent weapon," possibly used to crash into and kill people in the event of an armed conflict. 
Rep. Bob Latta, R-Ohio, chair of a House subcommittee on communications and technology, said at a hearing in July that "Communist China poses an immediate threat to our national security through their use of driverless cars within our very borders." He has said he's specifically concerned about data collection. 
Commerce Secretary Gina Raimondo said that when she was in China this summer to discuss trade, it was "very clear" to her that U.S. self-driving startups weren't welcome there the way Chinese firms had been welcomed here. 
"Their autonomous vehicle companies are piloting on our roads right now; we cannot," she said at a House hearing last month. "Let's level the playing field." 
The Chinese startups have been active in Arizona and California, but the full extent of their operations isn't clear because most jurisdictions do not require companies to report publicly on their activity. Arizona, for example, requires companies to get a permit before testing but the state provides little public information about the companies' operations. California state records are the most thorough, showing how many miles each company drove and how many collisions they had. 
Some of the Chinese companies have announced plans to pursue robotaxi services in the U.S. one day, competing with Waymo and Cruise vehicles currently on some U.S. roads, while others have had little to no activity on public roads, at least according to California records. All 10 of the companies maintain a U.S. address, all in Northern California. 
The California DMV said it doesn't treat Chinese companies any differently than other companies. 
"The DMV holds all autonomous vehicle manufacturers operating in California to the same standard — when reviewing an application for an autonomous vehicle testing or deployment permit or when monitoring and taking action against a permit for a violation of California's regulations or a risk to public safety — and all permit holders have the same reporting requirements," the agency said in a statement to NBC News last week. 
One of the most active of the startups in California has been Pony.ai, which has offices there and in China. It had 41 different vehicles and drove 280,412 miles during a six-month period in 2021 and 2022 — the equivalent of driving from San Francisco to Los Angeles more than 700 times. 
But Pony.ai was forced to cease testing on California roads when the state DMV revoked its permit in May 2022, saying the company's safety drivers — who monitor what a car does while in autonomous mode — had too many violations on their driving records. That short-circuited the company's previously announced plan to begin a robotaxi service in 2022. 
Pony.ai was able to secure a new California permit in December 2022 to test its vehicles with a driver present, and it is active on the state's roads as of last month, according to a form that the company filed with the state DMV to report a collision. The company said in the filing that on Sept. 15, one of its vehicles collided with debris on an interstate near San Jose and suffered bumper damage. No other vehicles were involved. 
A spokesperson for Pony.ai declined to comment on the company's plans and did not respond to a question about the increased political and regulatory scrutiny facing Chinese companies. 
Pony.ai, though, is racing ahead with plans. Last month, Pony.ai and Chinese tech giant Baidu said they were beginning a driverless paid robotaxi service in a suburban Beijing city district, and Pony.ai has a partnership with Toyota to manufacture robotaxis in China. 
Three other Chinese companies — WeRide, AutoX and DiDi — logged tens of thousands of miles each in the most recent year for which data is available, through November 2022, according to state records. AutoX operated a grocery delivery pilot program in San Jose. WeRide, AutoX and DiDi did not respond to requests for comment. 
Three others with activity during 2022 were QCraft, Apollo, which is affiliated with Baidu, and DeepRoute.ai, which all reported driving hundreds to thousands of miles. DeepRoute.ai stopped its testing in June 2022. Corine Chen, a spokesperson for DeepRoute.ai, said the company is now focused on working with vehicle manufacturers in China and does not have plans to resume testing in California. QCraft, which did not respond to a request for comment, no longer has a permit, according to the DMV.  
Tony Peng, a spokesperson for Baidu's Apollo, said the company's "current operational focus is primarily in China as we offer our autonomous ride-hailing services across four Chinese cities at the moment." 
Of those seven companies, three have California DMV permits to test without a driver present: Apollo, AutoX and WeRide. The others must have a driver in the vehicle when testing. 
Four more startups have permits from the California DMV but did not report activity during the most recent reporting period: Black Sesame, NIO, Pegasus Technology and XMotors. Representatives for those four companies did not respond to requests for comment. 
Chinese autonomous vehicle companies have attracted scrutiny via U.S. court cases in recent years. In three separate cases, federal prosecutors charged three former Apple employees with stealing trade secrets to benefit rival Chinese autonomous-vehicle firms. 
In 2018, a former Apple engineer, Xiaolang Zhang, was accused in federal court of taking trade secrets from Apple and then going to work at XMotors. He pleaded guilty in 2022 and is awaiting sentencing. XMotors said in 2018 that there was no indication Zhang turned over sensitive information from Apple to XMotors, Reuters reported. XMotors did not respond to a request for comment last week. 
In 2019, federal agents accused a different former Apple engineer, Jizhong Chen, of stealing proprietary information about self-driving technology while applying to a "China-based autonomous vehicle company," which U.S. authorities did not name. Chen has pleaded not guilty, and a pretrial hearing is scheduled for December. 
And this year, former Apple employee Weibao Wang was charged with stealing self-driving trade secrets. Wang boarded a flight to China the night after U.S. federal agents searched his California residence, according to prosecutors. Wang has since worked as an executive at Jidu, a joint venture between Baidu and Chinese carmaker Geely, according to Reuters. A Baidu spokesperson said Monday that Wang was no longer working at Jidu. 
Scrutiny of the companies heated up this summer in Washington. In July, a bipartisan group of four House members asked the Biden administration to launch an investigation into "the prevalence of these companies in our country and identify pathways to restricting their access and ability to operate here." They noted that a federal tool to keep track of autonomous-vehicle testing was voluntary, and that none of the Chinese companies were participating in it. 
"The massive amount of data being collected by these cars could give the CCP an unprecedented vantage point into the United States," the lawmakers wrote, referring to the Chinese Communist Party. They also noted that the Chinese startups are operating with a degree of freedom not afforded to American rivals operating in China. 
China has had similar security concerns about the U.S. automaker Tesla. In 2021, the Chinese military banned Tesla cars from entering its complexes, citing the vehicles' cameras, Reuters reported. The following year, Tesla vehicles were temporarily barred from areas where Communist Party officials were meeting, according to Reuters. In August, Tesla issued a statement on the Weibo social media platform assuring Chinese users that their data is managed within the country, according to the Nikkei news service.
It's not clear whether the Biden administration has agreed to the request for an investigation from lawmakers. The letter was addressed to the Commerce and Transportation departments, and spokespeople for those departments declined to comment this week. 
Transportation Secretary Pete Buttigieg addressed the subject in an interview with Reuters in July, saying that he shared lawmakers' concerns about Chinese self-driving car companies. 
"Whether we are talking about hardware or software, in the same way there are concerns around telecom or TikTok, there are concerns around transportation technologies," he said in the interview. He said the U.S. needed to understand the companies' "true ownership." 
Matthew Guariglia, a senior policy analyst at the Electronic Frontier Foundation, a pro-privacy advocacy group, said that the concern about data collection is well-founded and that it applies similarly to U.S. tech companies that also are lightly regulated. 
"If Chinese companies are collecting data in the U.S., that is a symptom of how lawless our data privacy protections are," he said. 
Philip Koopman, an associate professor at Carnegie Mellon University and an expert on autonomous-vehicle safety, said that similarly, concerns posed by lawmakers could apply to U.S. cars. He noted that virtually all modern cars and trucks can be controlled remotely and can receive over-the-air software updates, making them theoretical targets for a determined adversary. 
"Saying that robotaxis present a unique threat to privacy and security is overstated," he said. 
See more exclusive reporting on the growing concerns over Chinese self-driving cars in the U.S. on Hallie Jackson Now, 5pm ET on NBC News Now.