California Gov. Gavin Newsom has chosen Laphonza Butler, the president of EMILY's List, to fill the seat of the late Democratic Sen. Dianne Feinstein, the governor's office confirmed to NBC News.
She will be the third Black woman to ever serve in the Senate, as well as the first openly LGBTQ person to represent California in the chamber. Politico first reported Newsom's choice of Butler.
Feinstein, the longest-serving woman in the Senate, died Thursday at age 90.
"I am honored to accept Gov. Newsom's nomination to be a U.S. Senator for a state I have long called home," Butler said in a statement Monday. "I am humbled by the Governor's trust. Sen. Dianne Feinstein's leadership and legacy are immeasurable. I will do my best to honor her by devoting my time and energy to serving the people of California and the people of this great nation."
In California, the governor has the power to appoint a senator to serve until the next regularly scheduled statewide general election. That means Butler will serve until the next senator, whom voters will choose in the November 2024 election, is sworn in.
Butler has led EMILY's List, which works to elect Democratic women who support abortion rights, since 2021, when she became the first Black woman to lead the organization. On Friday, she posted a tribute to Feinstein on social media, calling her "a titan in the Senate" and "a legendary figure for women in politics and around the country."
Kelley Robinson, president of the Human Rights Campaign — the country's largest LGBTQ rights organization — called her appointment "a landmark moment in the fight for social, racial and economic justice."
"As the first Black lesbian to represent California in the United States Senate, Laphonza brings a compelling voice for abortion rights, the labor movement and civil rights into Congress. Her leadership is a testament to the legacy of Senator Dianne Feinstein's strong record of pro-LGBTQ+ support," Robinson said.
Butler's professional career has been rooted in California, where she led SEIU Local 2015, the largest union in the state. She has also been a longtime ally of Vice President Kamala Harris, a member of the University of California Board of Regents and the director of public policy and campaigns in North America for Airbnb.
Butler lives in Maryland, but Matthew Wing, a spokesman, said Monday that she has re-registered to vote in California.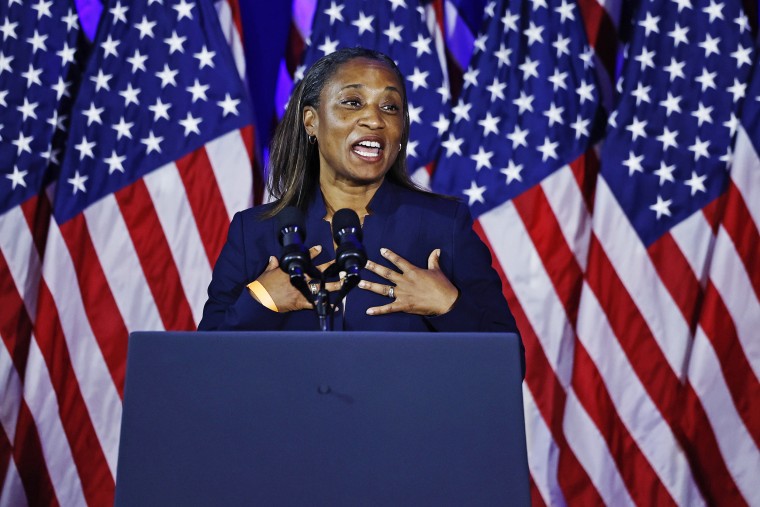 Newsom, a Democrat, had provided substantial clues in recent months about how he'd choose Feinstein's replacement if her seat were to become vacant.
He had said that he would appoint a Black woman if either of California's Senate seats opened up. He also said on NBC News' "Meet the Press" last month that while he "didn't want to make another appointment," it knew it was his "responsibility."
Newsom also said that his choice would amount to an "interim" appointment and that he wouldn't appoint any of the candidates who had been running to succeed Feinstein in 2024. They include Reps. Barbara Lee, Adam Schiff and Katie Porter.
Choosing any of them, Newsom said, "would be completely unfair" to the candidates "who have worked their tails off" in their campaigns.
Butler, however, won't have any constraints on her plans and will be free to run for the seat if she chooses.
She will be sworn in when the Senate convenes on Tuesday at 3 p.m. ET, according to two sources.
Porter, Schiff and Lee all offered their congratulations to Butler and said they were looking forward to working closely with her.
Porter praised Butler's accomplishments, saying she "has spent her career standing up for women and working families."
Schiff said he was "glad" Newsom acted quickly in appointing someone, and Lee said she was still "singularly focused" on winning the Senate race.
The Congressional Black Caucus had urged Newsom to appoint Lee, saying she was the "only person with the courage, the vision, and the record to eradicate poverty, face down the fossil fuel industry, defend our democracy, and tirelessly advance the progressive agenda.
Newsom appointed then-California Secretary of State Alex Padilla to the Senate seat left vacant after Harris was elected vice president; the latest appointment means he will have chosen both senators in the state.
Aside from Harris and now Butler, Carol Moseley Braun of Illinois was the only other Black female senator.
Voters in the state will head to the polls in a March 5 Senate primary election. California uses a blanket primary, meaning all candidates from all parties appear on the same primary ballot, with the two top vote-getters advancing to the general election in November, regardless of their political parties.
Feinstein, who had been the oldest member of the Senate, as well as the longest-serving female senator and the longest-serving senator from California, announced in February that she'd planned to retire at the end of 2024, when her term was up. 
But she had faced repeated calls to resign over concerns about her health. After Feinstein missed votes in February, her spokesperson said days later that "the senator is in California this week dealing with a health matter" and "hopes to return to Washington soon."
Feinstein had also faced pressure in recent years to step down to make way for younger lawmakers. In April 2022, she pushed back against a news report in the San Francisco Chronicle citing multiple anonymous colleagues' expressing worries that she was mentally unfit to serve. "I remain committed to do what I said I would when I was re-elected in 2018: fight for Californians," she said then.