WASHINGTON — The House of Representatives on Tuesday took the unprecedented step of ousting a speaker from office, less than nine months after Kevin McCarthy won the powerful gavel in a dramatic 15-round floor fight.
The vote was 216-210 to topple the California Republican, who continued to insist to the bitter end that he would "never give up." After the vote, the office of the speaker of the House — the second rung on the ladder of succession to the U.S. presidency — was declared vacant.
All 208 Democrats teamed up with just eight GOP rebels to vacate the speaker's chair — the first time in U.S. history that lawmakers have formally voted to remove a sitting speaker in the middle of a term. An overwhelming number of Republicans, 210, voted to keep McCarthy in power, but it was not enough to stop the effort led by Rep. Matt Gaetz, R-Fla., who for weeks has accused McCarthy of breaking promises to conservatives to cut spending.
"We heard Speaker McCarthy say that he wanted us to 'Bring it on!' So I guess we did," Gaetz told reporters after the successful vote.
Follow along for live updates.
The historic vote threw the GOP-controlled House into chaos as lawmakers struggled to figure out what to do next. The session ended with another surprise: It was announced that Financial Services Chair Patrick McHenry, R-N.C., a top McCarthy ally, is now the speaker pro tempore, put on a secret list McCarthy provided to the clerk in January in the event of a vacancy.
After assuming the speaker's chair, where he'll serve in an interim capacity, McHenry slammed down the gavel in anger.
In a private meeting after the vote, McCarthy told GOP colleagues that he would not run for speaker again given that he didn't have the support to overcome his political foes, lawmakers said. Moments later at a packed news conference, he lashed out at Gaetz and the other rebels, calling them fake conservatives.
"They are not conservatives," McCarthy told reporters. "They don't get to say they're conservative because they're angry and they're chaotic. That's not the party I belong to. The party of Reagan was if you believed in your principles that you could govern in a conservative way.
"They are not conservatives and they do not have the right to have the title," he said.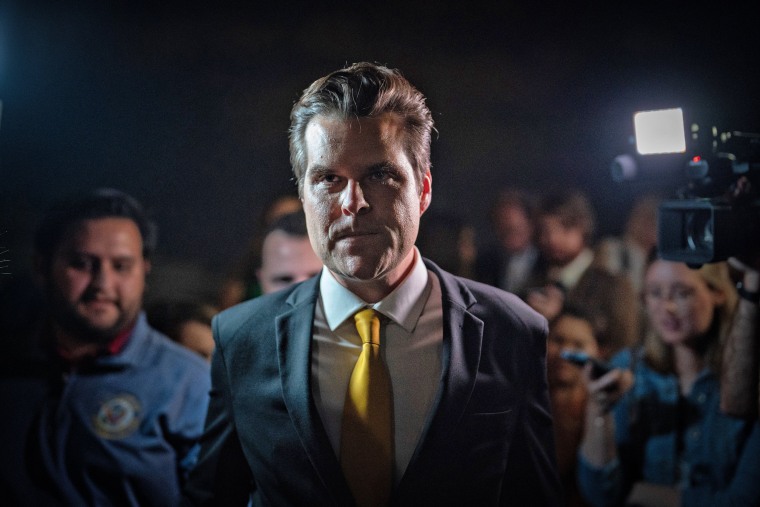 Before the vote, a parade of top McCarthy allies rose to speak in favor of keeping McCarthy. House GOP Conference Chair Elise Stefanik, R-N.Y. called McCarthy a "happy warrior" who has a "uniquely American grit," while Rep. Garret Graves, R-La., praised him as "the greatest speaker in modern history."
"I recognize that my friends on the other side have a very complex set of partisan, personal and political calculations to make — and I certainly wouldn't presume to give them any advice about that," Rules Chairman Tom Cole, R-Okla., a top McCarthy ally who tried unsuccessfully to block Gaetz's effort, told Democrats on the floor before the vote.
"But I would say, 'Think long and hard before you plunge us into chaos. Because that's where we're headed if we vacate the speakership.'"
Cole received big applause and a standing ovation from almost the entire GOP side of the chamber as he finished speaking.
Gaetz countered from the Democratic side of the aisle because Republicans had blocked him from the three GOP microphones on the floor, he said.
"Chaos is Speaker McCarthy. Chaos is somebody who we cannot trust with their word," Gaetz said, retorting Cole. "I don't think voting against Kevin McCarthy is chaos. I think $33 trillion in debt is chaos. I think that facing a $2.2 trillion annual deficit is chaos."
For weeks, Gaetz had threatened to call a vote to expel McCarthy if he passed a short-term government funding bill relying on Democratic votes. When McCarthy did just that last weekend to avert a shutdown, Gaetz moved against him.
Under House rules, McCarthy had until Wednesday to take up the resolution that Gaetz, a conservative Florida Republican and Donald Trump loyalist, filed Monday night. But McCarthy and his allies moved to rip off the Band-Aid and quickly take on the so-called motion to vacate that has consumed the Capitol.
"I get politics. I understand where people are," McCarthy told reporters. But he added: "I truly believe the institution of the House, at the end of the day, if you throw a speaker out that has 99% of their conference, that kept government open and paid the troops, I think we're in a really bad place."
After holding a vigorous debate behind closed doors Tuesday morning, House Democrats announced that they would band together and vote against McCarthy instead of rescuing him from the mutiny.
"We are not saving Kevin McCarthy," said Progressive Caucus Chair Pramila Jayapal, D-Wash., as she left the meeting.
In the Democrats' meeting, leadership played sound of McCarthy's Sunday interview on CBS' "Face the Nation" where he said Democrats wanted to shut down the government in last week's standoff, Rep. Gerry Connolly, D-Va., recounted. Many rank-and-file Democrats fumed at his remarks.
Democrats heard a range of views about what to do, but "there wasn't anybody who came to the defense of Kevin McCarthy," said Rep. Richard Neal, D-Mass.
"I will vote to remove Kevin McCarthy as speaker. I will not be an enabler," Connolly said. "It is absolutely against Democratic interests and the interests of the country, from my point of view, to allow him to persist in office."
"He's a MAGA extremist in his politics and is the antithesis of everything we hold dear," he continued.
The vote to remove McCarthy was conducted by roll call, where each of the 426 members present stood and called out their vote — a scene similar to the raucous January speaker's race that handed McCarthy the gavel after a lengthy standoff with Gaetz. Along with Gaetz, seven other Republicans voted Tuesday with all of the Democrats to depose McCarthy: former conservative Freedom Caucus Chairman Andy Biggs and Rep. Eli Crane, both of Arizona; Rep. Tim Burchett of Tennessee; Rep. Bob Good of Virginia; swing district Rep. Nancy Mace of South Carolina; and Rep. Matt Rosendale of Montana.
Given how rarely the speakership has been declared vacant — the last time it happened was in 1910, when Speaker Joseph Cannon declared the chair vacant against himself — it's unclear how this saga will play out now.
In 2015, then-Rep. Mark Meadows, R-N.C., filed a motion to vacate resolution, but unlike this one, it was "non-privileged" and never came up for the vote. Speaker John Boehner, R-Ohio, resigned weeks later, McCarthy ran for speaker and then dropped out amid a different conservative rebellion, and Rep. Paul Ryan, R-Wis., was elected speaker.
Speaking to reporters on the steps of the Capitol, Gaetz said that he could support any number of Republicans to succeed McCarthy as speaker. His list includes McCarthy's top lieutenant, Majority Leader Steve Scalise, R-La., Majority Whip Tom Emmer, R-Minn., GOP Conference Vice Chair Mike Johnson, R-La., Budget Chairman Jodey Arrington, R-Texas; Republican Study Committee Chair Kevin Hern, R-Okla.; even former Rep. Lee Zeldin, who ran unsuccessfully for governor of New York.
On Scalise, who is receiving treatment for a type of blood cancer, Gaetz said: "I want to hear from him. I'm not here to make a judgment on where Mr. Scalise stands with his rehabilitation and recovery."
"I would give him deference to be able to decide whether or not he'd like to put himself forward as a candidate," he added. "But he'd be the type of person that I could see myself supporting."
McCarthy's allies showed a range of emotions after his removal. Rep. Stephanie Bice, R-Okla., wiped away tears with a tissue on the House floor, while others privately vented in the halls to reporters. Rep. Marjorie Taylor Greene, R-Ga., a McCarthy ally who has publicly clashed with Gaetz, urged the ousted speaker to run again.
"No one has come forward and no one has shown any interest in running for speaker," Greene said. "No one has the support in the conference like Kevin McCarthy does, so that's been my question the entire time: What's the plan? And there's not a plan."