The judge presiding over Donald Trump's $250 million civil fraud trial in New York issued a partial gag order Tuesday after the former president trashed his law clerk on social media.
"Personal attacks on members of my court staff are unacceptable, inappropriate and I won't tolerate it," an angry Judge Arthur Engoron said following Trump's post and comments about his law clerk.
"Consider this a gag order on all parties with respect to posting or publicly speaking about any member of my staff," Engoron said, warning that violations would be met with swift and meaningful sanctions.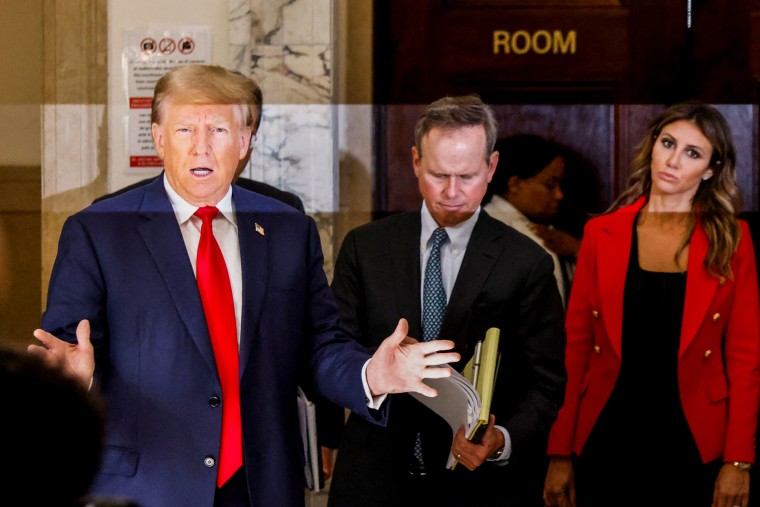 Trump blasted Engoron's law clerk on social media earlier Tuesday and then amplified the attack in brief remarks to reporters during the lunch break.
Trump had posted on Truth Social a different user's Instagram post showing Engoron's law clerk at an event where she posed with Senate Majority Leader Chuck Schumer, D-N.Y. In his post, Trump insinuated that she had a personal relationship with Schumer.
He then referred to it to reporters during the lunch break, saying: "You saw what was just put out about Schumer and the principal clerk? That is disgraceful."
The trial was supposed to resume at 2:15 p.m., but it was delayed for about 45 minutes. During that time period, Trump's lawyer Chris Kise and Eric Trump were seen approaching Engoron's chambers, and the Truth Social post was removed from Trump's feed.
Engoron, who has not reacted publicly to Trump's numerous attacks calling him biased and a "Trump-hating judge," made it clear his staff is out of bounds. He said that the comments on the post about his clerk were "disparaging" and "untrue" and that they included personally identifying information, and he said he had ordered the post to be deleted.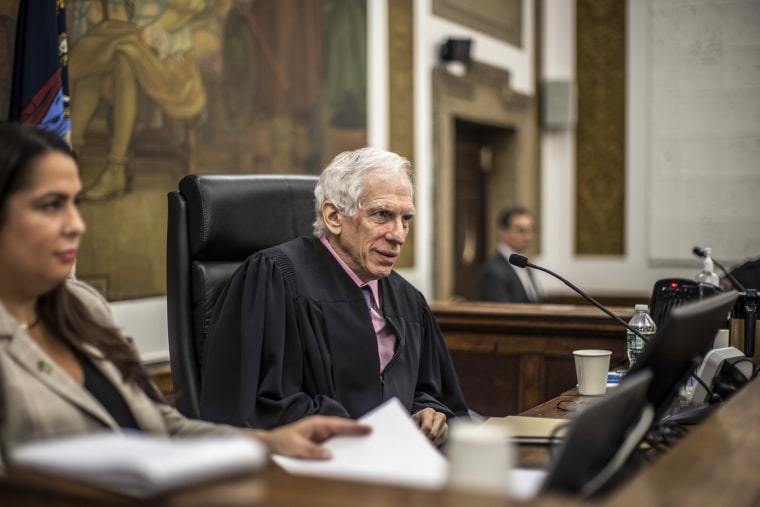 Schumer spokeswoman Allison Biasotti called the Trump post "pathetic," "ridiculous, absurd and false," adding that Schumer does not know the clerk.
"As is well known, Senator Schumer attends countless events in every corner of the state where tens of thousands of constituents take photos with him, just like this one, which was taken at a stop at an annual brunch in Manhattan," Biasotti said in a statement.
During the court lunch break Tuesday, the Trump campaign also sent out an email criticizing Engoron, mocking him as a "far-left Democrat," with excerpts of articles from far-right websites that were critical of him.
Each time Trump has been chastised in one of his cases for violating decorum and attacking a judge or a witness, prosecutors in his other cases have cited it as a reason to limit his ability to discuss the details of cases publicly.
The office of special counsel Jack Smith, who is overseeing the Justice Department's election interference case against Trump, said in a filing last week that Trump has waged "a sustained campaign of prejudicial public statements regarding witnesses, the Court, the District, and prosecutors." Smith's team argued that Trump should be restricted in his remarks about the case because of his past comments about Gen. Mark Milley, then the chairman of the Joint Chiefs of Staff, and others.
U.S. District Judge Tanya Chutkan has ordered an Oct. 16 hearing on Smith's motion for a narrow gag order in that case.