WASHINGTON — Laphonza Butler was sworn in Tuesday to fill the seat of the late Sen. Dianne Feinstein, D-Calif., who died last week at age 90.
Vice President Kamala Harris, who has been a longtime ally of and adviser to Butler, administered the oath of office, prompting boisterous applause from the Senate floor and gallery.
California Gov. Gavin Newsom moved quickly to select Butler, who was the president of EMILY's List, on Sunday. She is the third Black woman to serve as a senator, following Harris until she became vice president and Carol Moseley Braun, D-Ill., in the 1990s.
Butler, the first openly LGBTQ person to represent California in the chamber, will serve alongside fellow California Democrat Alex Padilla.
After her swearing-in ceremony, President Joe Biden called Butler to congratulate her, the White House said.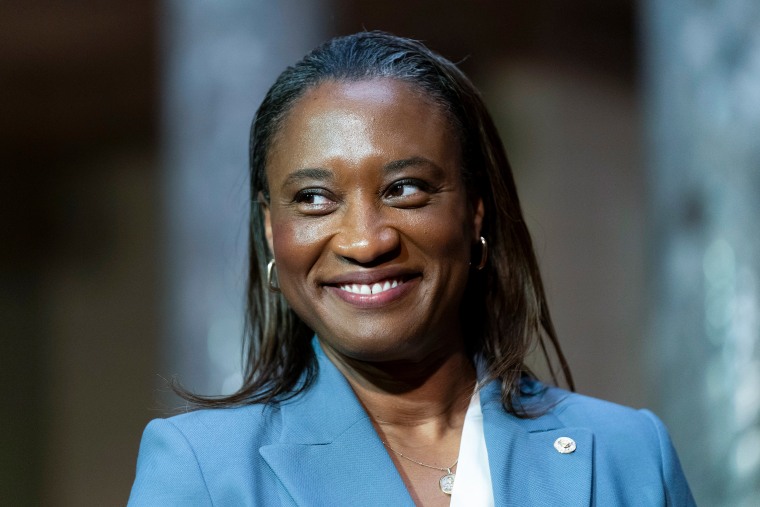 Butler had led EMILY's List, a group focused on electing Democratic women who support abortion rights, since 2021, when she became the first Black woman to lead the organization.
"I am honored to accept Gov. Newsom's nomination to be a U.S. Senator for a state I have long called home," Butler said in a statement Monday. "I am humbled by the Governor's trust. Sen. Dianne Feinstein's leadership and legacy are immeasurable. I will do my best to honor her by devoting my time and energy to serving the people of California and the people of this great nation."
Butler resides in Maryland, but a spokesman, Matthew Wing, told NBC News on Monday that she had re-registered to vote in California.
With her swearing-in, the Democrats again have a 51-49 majority; it puts them in a position to fill Feinstein's seat on the Judiciary Committee, which is deadlocked.
Feinstein had said she would not run for re-election in 2024. Major contenders in the Senate race are Democratic Reps. Adam Schiff, Katie Porter and Barbara Lee.
Before Feinstein's death, Newsom had said he planned to make an "interim" appointment if he needed to fill her seat, because he did not want to tip the scales toward any of the current candidates.
He made it clear, however, that no restrictions were put on Butler's appointment and that she was free to run if she wanted. Butler will serve out the rest of Feinstein's term, which ends in early 2025. She has not yet indicated whether she plans to run for the seat.