ANAHEIM, Calif. —  Growing up in Mexico, Ruben Jiménez learned how to make paletas from scratch, helping his dad and grandpa, who were paleteros, make and sell the popular frozen popsicles at their store or in carts.   
Jiménez, 35, has turned the modest family tradition into a sprawling Mexican paleta empire: "La Michoacana Plus" has more than 85 franchises across the U.S. in California, Arizona, Texas, Oregon, Louisiana, Oklahoma and Mississippi — and his vibrant shops featuring over 100 popsicle flavors and more than 50 ice cream flavors can be found as far away as Guatemala and even in Dubai, United Arab Emirates, where he opened the country's first paletería last year and is planning to open a second one. In a country known for its heat and where people don't drink alcohol but love sweets, the paletas have been a hit, Jiménez said.
"If we opened in Dubai, I believe we can open in any part of the world," said Jiménez, who currently lives in Bakersfield, California, and whose business now has over 5,000 employees. "La Michoacana is now a differentiator to recognize Mexico and its popsicles and ice cream."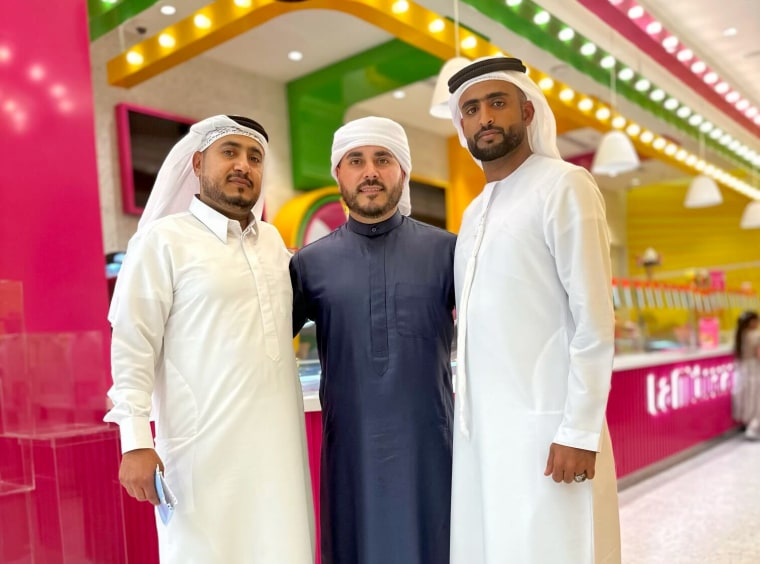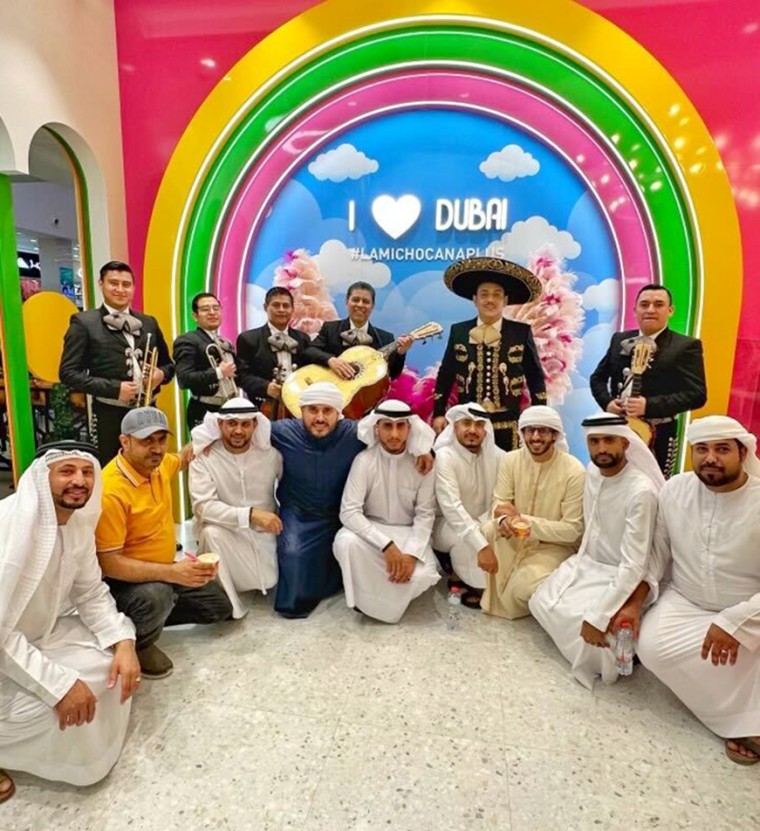 Jiménez and many others in the paleta business are banking on the Michoacán name's instant recognition and the storied history behind it: Despite some debate and varying claims, the Mexican state is known as the birthplace of paletas and one of its towns, Tocumbo, has a giant paleta monument and hosts a weeklong yearly paleta festival.
Like many other paleta shop owners across the U.S., though, Jiménez doesn't hail from Michoacán. He was born in Nochistlán, in the state of Zacatecas, and was raised in Toluca. 
Yet for Jiménez and others, his store's name was an obvious choice.
"When I first named the shop 'La Michoacana Plus,' I was trying to find a name that historically represented the genesis of the paletas of Mexico. My objective was to bring the typical products of my country," Jimenez said.
Paletas with the name "Michoacana" have reached the U.S. mainstream and are sold in general supermarkets like Walmart, Smart & Final and Costco, among others. You can find a Michoacana paletería from coast to coast and in-between, including in the Midwest, where there's a strong Latino presence.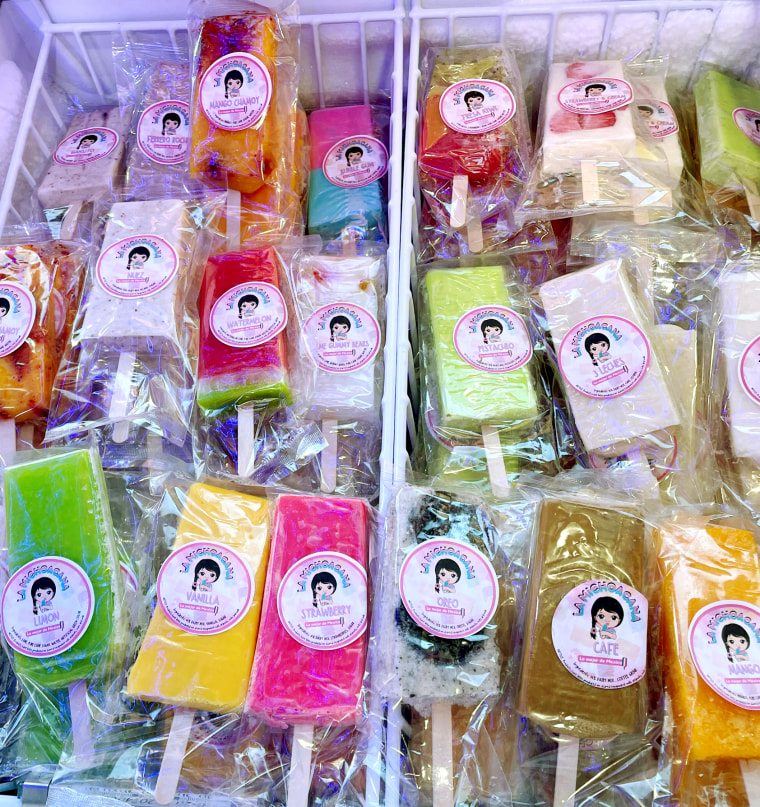 In Mexico alone, it was estimated there were 30,000 paleterías over a decade ago; there's even been legal disputes over the use of the name, as Eater reported in 2019.
But in her 2011 book "Paletas," Mexican chef and food writer Fany Gerson, who owns La NewYorkina, a paletería in Brooklyn, wrote, "Arguing that La Michoacana is a brand, it's like saying ice cream is a brand." 
Serena Maria Daniels wrote in Eater, "People use the phrase 'La Michoacana' as shorthand for a paletería or ice cream shop in much the same way that people use the brand name Kleenex to mean facial tissue."
For more from NBC Latino, sign up for our weekly newsletter.
In Mexico, paletas — some of them homemade — are commonplace and are sold from pushcarts or in shops or paleterías. Making and selling the frozen treats have allowed families a path toward economic mobility without any formal education or capital.
As Gerson describes in her book, the word "paleta" derives from the Spanish word palo, which means stick. The popsicles are typically water or dairy-based and come in a variety of fruit and other flavors; they can include other ingredients such as fresh fruit chunks and condiments to provide texture.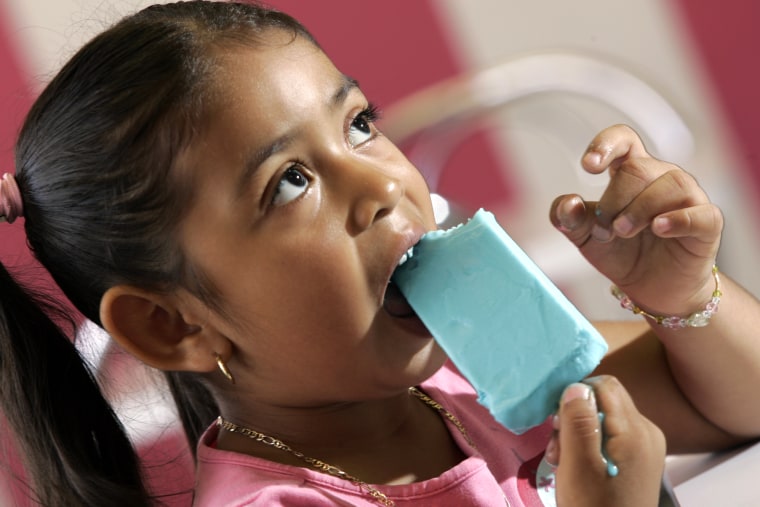 A frozen path to success
Alberto Lezama Carrasco, a New York City native, was on vacation in Los Angeles when he noticed there was an unusual amount of paleterías in the region — all with the namesake of Michoacana.
He took the business concept to the Big Apple and opened up La Michoacana NYC in Brooklyn last year. It's become an instant hit, attracting people from different parts of New York City and surrounding states: He said customers drive a few hours from as far as Pennsylvania, upstate New York and Connecticut to buy his products.
"People say, 'There's a Michoacana?' and get surprised," said Carrasco, 38, referring to the fact there's not as many Michoacanas in New York City as in Los Angeles, Chicago or Mexico. He said people who travel the farthest are mostly Hispanic: "a lot of Mexicans, Central Americans, like people from El Salvador and Honduras," he said.
Like Jiménez, Carrasco isn't from Michoacán. He's from Tlacotepec de Benito Juárez, in the state of Puebla. He cranks out up to 5,000 paletas on a given day, depending on demand and orders. Apart from his own business, he distributes paletas and ice cream to local delis and bodegas. Some workdays he begins molding batches of paletas and prepping dozens of ice cream buckets at 8 a.m. and finishes around midnight.
"Life in Mexico is much different," said Carrasco, who grew up poor and unable to afford his own paleta; he had to share a popsicle with family members. "Now I'm the one making the ice cream," he said.
"Kids have come here and asked if they could buy ice cream for $1," Carrasco said, which reminds him of his memories growing up in Mexico. "I say 'it's OK' and give them ice cream."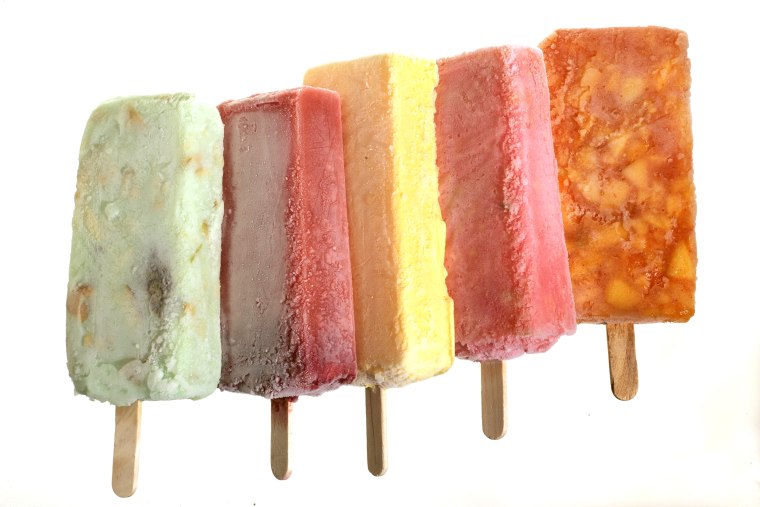 More competition — and creativity
With the widespread number of Michoacanas, competition has spurred store owners to get creative with unique flavors to differentiate their establishments. They've added popular Mexican snacks, or antojitos, to their menu, built more elaborate and eye-catching storefronts and posted their products online to draw customers.
In Haines City, Florida, Fernanda Contreras, 26, started La Michoacana Natural with her boyfriend and his family in 2019. They've quickly expanded by adding three more shops in the region. 
"There is obviously always an option of just branding it your own and not calling it a Michoacana, but we wanted to try it out. I feel like myself when I hear Michoacana, I just know exactly what they sell," said Contreras, who is Mexican American and grew up in Chicago seeing Michoacanas all over the place. "People just knew immediately too, like, 'Oh, it's a Michoacana.' They know what we sell. They know what they're coming for, what they're going to find."
Contreras said their stores offer traditional paleta and ice cream flavors found across most Michoacanas, like lime, coconut and fresas con crema — strawberries and cream. But it hasn't stopped them from experimenting. Every month or so they create a new flavor. They've previously made vanilla paletas filled with Nutella that oozes out once it's bitten into and a gummy bear paleta, among other confections.
Like most Michoacanas, which also serve as a sort of candy store, La Michoacana Natural features popular Mexican snacks and trendy items, like mini pancakes.
"We sell a crazy amount of mini pancakes, people love them — we have churros and obviously the big item that everybody looks for is tostilocos," said Contreras, referring to the popular Mexican street snack made with Tostitos, vegetables, hot sauce, nuts and other ingredients. "Growing up, though, I don't remember seeing a lot of antojitos (snacks) to be honest with you — at least not in Mexico. It was mainly known for ice cream, paletas [and] aguas frescas" (water infused with fruit and citrus).
As Michoacana menus have grown and diversified over the years, Contreras said paletas and ice cream remain top sellers at their shops, but antojitos do help drive customers to their locations and to other Michoacanas nationwide. 
"It can be overwhelming when people come and just assume they're all the same, that they offer the same and they expect the same," Contreras said. "Everybody just kind of puts their own touch to the mold and changes little things here and there. And it's cool to bring a little piece of Mexico to every [U.S.] state because you could really find them almost everywhere now."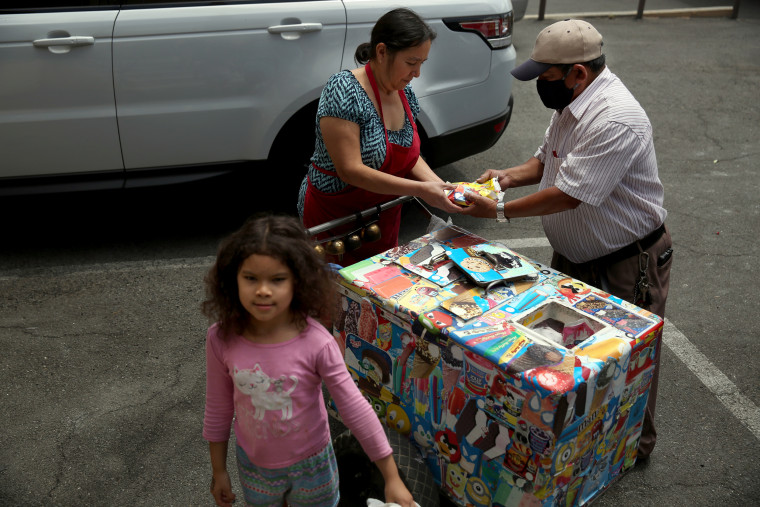 Diehard fans
In Southern California, Jennifer Clausen-Quiroz, 36, and her brother Ricardo Quiroz, 31, have been managing Tocumbo Ice Cream in Anaheim since 2016.
Tocumbo is also a common name for paleterías, according to Gerson's book, along with La Michoacana and La Flor de Michoacán on either side of the border.
"In Mexico, you don't even need to be from Tocumbo, not even from Michoacán to open up a Michoacana," Quiroz said. "Usually if you open up a Michoacana it means you went to Michoacán to learn how to make paletas, how to make ice cream and over there it's common."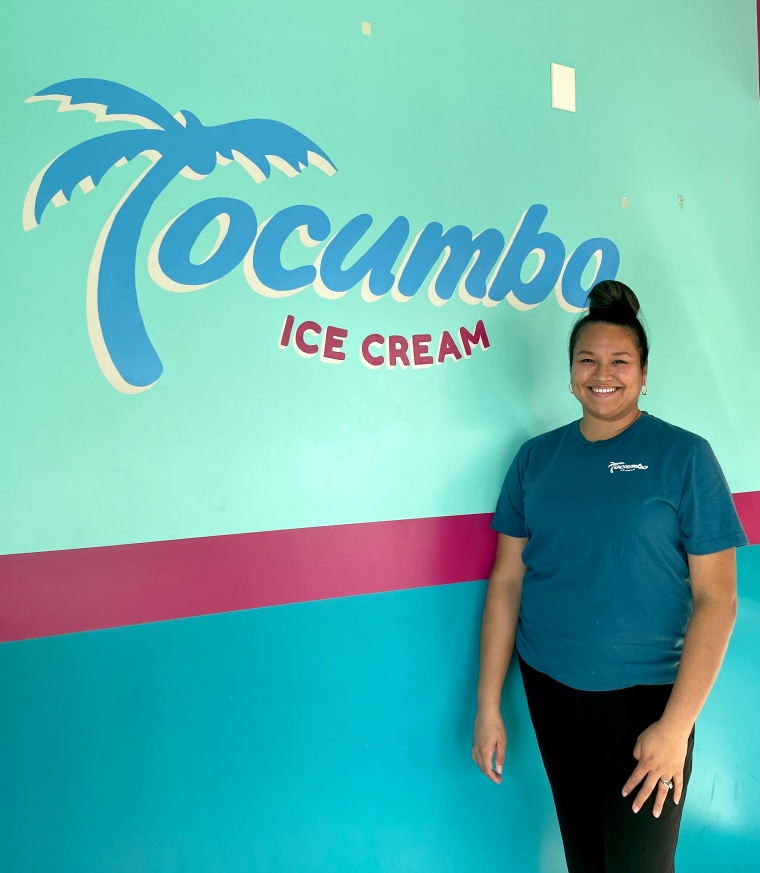 The Quiroz family is from Cotija de la Paz, a city next to Tocumbo. Their uncle Gerardo Ramírez opened up paleterías originally with the namesake Michoacana in San Diego more than 20 years ago, but later renamed them after Tocumbo since people also associate it with paletas.
Clausen-Quiroz recalled her father's stories of growing up near Tocumbo. He would say "if you were trying to impress a lady or something, you would take her to Tocumbo for some ice cream," she said.
Aside from the store in Anaheim, the family has four other locations in San Diego, and they strive to stay authentic by sourcing ingredients locally and importing items from Mexico.
Because of the exposure Michoacanas have received, Clausen-Quiroz said customers assume their business is affiliated with a Michoacana brand and expect certain flavors, prices and quality. 
"People just assume that we're a Michoacana and that we are franchise and that we buy from the same supplier." Though that's not the case, it's not all bad. She said the exposure has made paletas and Mexican ice cream mainstream.
"People that are not Hispanic or Mexican can say, hey, like, 'I understand. I know what a paleta is, 'You don't have to tell me it's a popsicle.' Or they understand that our ice cream, it's like, it's good ice cream, it's not going to be something that we buy from a wholesaler," Clausen-Quiroz said.
"We have some pretty good diehard fans that are good at, like, word of mouth," Clausen-Quiroz said. Los Angeles Times columnist Gustavo Arellano said Tocumbo was his favorite restaurant.
Clausen-Quiroz said they regularly get customers who drive from other parts of the state or recurring tourists from nearby Disneyland. One customer drove from Las Vegas for his paletas — they sent him off with dry ice to make it back home.
"We've had people from like the U.K. and, like, places in Canada that have just heard about us," Clausen-Quiroz said, "or they have family members that live here that, you know, they make it a point to make it a stop."
In New York, Carrasco reflected on the frozen treat and the popular name used by store owners like him.
"I think it's a blessing to have this business concept in Mexico and to bring it over here to the U.S. and other parts of the world, because in reality, people are very content," he said. "I believe that it doesn't only signify Mexicans, but people from all over the world, love the products from la Michoacanas."