Twenty-three million people were under flood watches across parts of New Jersey, New York and Connecticut on Friday morning with flash flood warnings in effect for parts of Long Island, Brooklyn, Queens, Manhattan and New Jersey.
In some places, flooding was already occurring or imminent and causing severe delays to the subway system in New York City and other travel in the area.
The rain is not expected to let up after the morning hours, and the Northeast could see potentially historic amounts of rainfall Friday into Saturday morning.
New York City's rainfall total will likely rank in the top 5 for wettest Septembers on record. If New York City picks up more than 7.13 inches of rain over the 24-hour period on Friday, it will eclipse the record rainfall that fell from the remnants of Hurricane Ida on Sept. 1, 2021.
Much of the area is forecast to pick up 3 to 5 inches of rain, with locally higher amounts of 7 to 9 inches including in and around the New York City metro area. For extreme isolated spots, double-digit rainfall totals were not out of the question.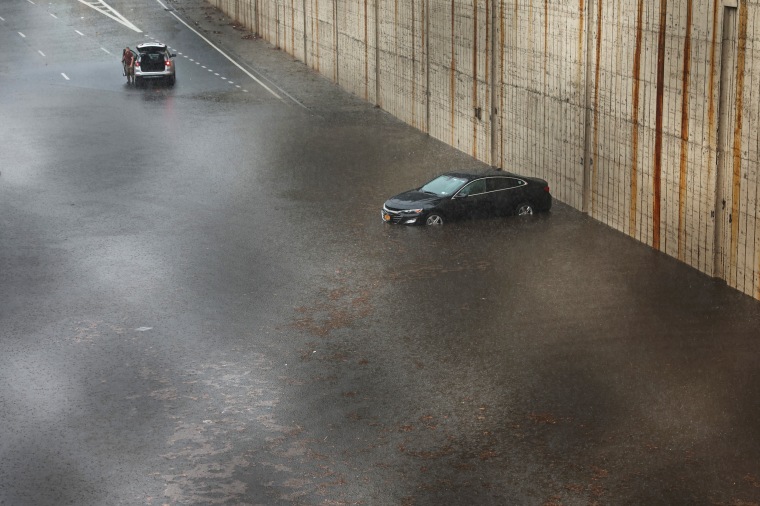 By 9:45 am, most areas around New York City had already eclipsed the 4-inch mark, with some of the highest totals of 6.23 and 4.85 inches recorded over parts of southern Brooklyn. Central Park was already up to 3.28 inches with New York's JFK and La Guardia airports up to 4.22 and 3.3 inches, respectively.
Rainfall rates of 1 to 2 inches per hour will cause flash flooding, especially in urban areas and those saturated by recent heavy rainfall.
The situation is expected to be a long-duration rainfall event, with the risk of flooding persisting all day Friday, including through the evening rush hour. The axis of heaviest rain was expected to impact the I-95 corridor causing life-threatening conditions on the roadways, and crippling travel delays were likely at all the area airports.
The rain is not expected to end region-wide until Saturday morning for places like New York and Hartford and early Saturday afternoon for Boston.
Coastal areas could see two types of flooding, one from heavy rainfall and the other from high tides exacerbated by the supermoon. River flooding will be a major risk as well.
As the flood event unfolds, forecasters and authorities stressed not to drive through any flooded roadways and use extreme caution around rivers and coastal areas. The majority of flood-related fatalities happen in vehicles.
Three ingredients came together to produce the heavy rainfall. The first is an area of converging air over the Northeast, called an inverted trough, which serves as a trigger point for showers and thunderstorms. The second is a coastal storm off the Atlantic Coast which will provide added moisture and lift contributing to areas of heavier rainfall that will last into Saturday morning.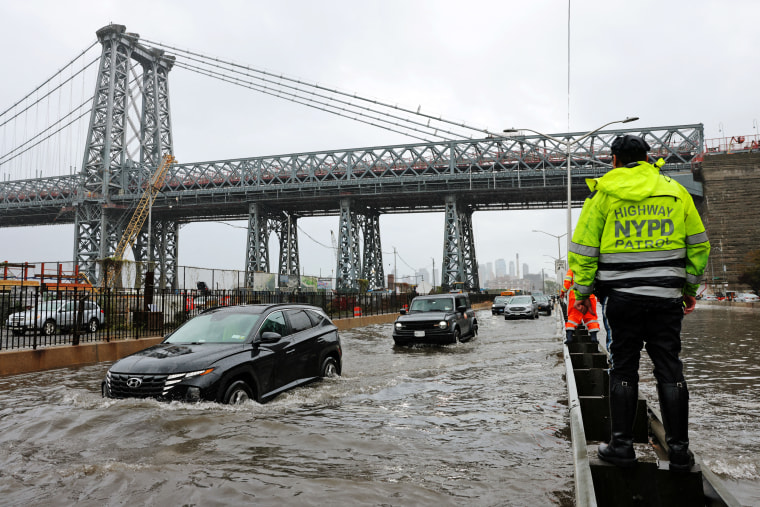 Finally, additional tropical moisture feeding into the system can be traced to what was Tropical Storm Ophelia. Despite dissipating earlier in the week, the storm left enough disturbed weather and moisture behind to enhance the current storm system.
Climate change can be linked to an increase of heavy precipitation events. According to Climate Central, the Northeast has seen the greatest increase in heavy precipitation events of any region in recent decades.
Hourly rainfall intensity has also increased in every U.S. region and the nationwide trends of days with 1-, 2- and 3-inch rainfalls are also increasing.