Pope Francis opened the door Monday for some Catholic priests to bless same-sex unions, hinting at a reversal of the official Vatican position that has put it at odds with many of its own progressive followers.
However, Francis outlined some major caveats, including that they should be decided on a case-by-case basis and not seen as equivalent to heterosexual wedding ceremonies.
As recently as 2021, the Vatican said it could not condone same-sex unions because "God cannot bless sin." But on Monday, the pope signaled that there could be exceptions to that stance.
"We cannot be judges who only deny, reject, and exclude," he said in a letter to five conservative cardinals who asked for clarity on the issue ahead of a major global gathering on the future of the church that begins Wednesday.
Though Vatican policy has not changed, Francis' comments have been seen by some LGBTQ Catholics as a huge step in undoing the marginalization they still experience within the church despite his decade of modernization.
'Pastoral charity'
The remarks came in a letter written by Francis and published Monday by the Vatican's Dicastery for the Doctrine of the Faith. He was responding to a list of "dubia" (literally "doubts" — or questions) presented by five conservative cardinals from Asia, Europe, Africa, the United States and Latin America.
They challenged him to reinforce traditional Catholic teaching on same-sex marriage and other thorny issues, such as women's ordination.
But in response, Francis said there may be "forms of blessing, requested by one or more persons" that could be granted on an occasional basis. He called for the clergy to show "pastoral charity," including "kindness, patience, understanding, tenderness, and encouragement."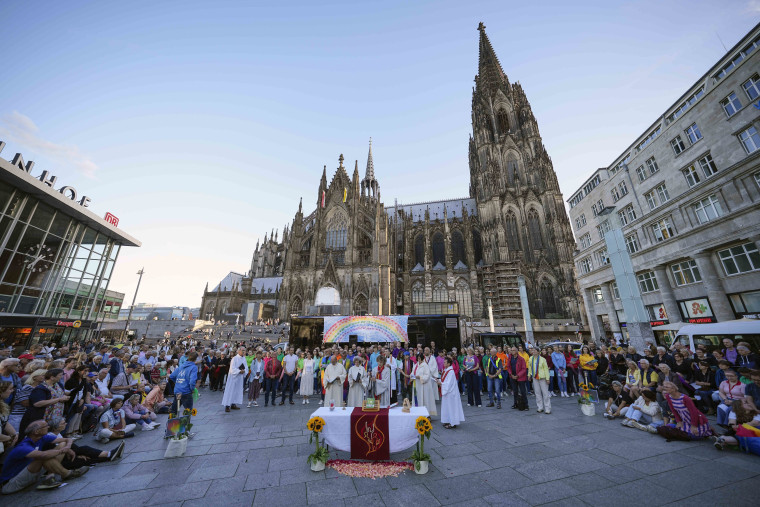 The pope made it clear that these unions "do not convey a mistaken concept of marriage," which he called the "indissoluble union between a man and a woman, naturally open to procreation." He also said he believes same-sex unions are "not morally acceptable from an objective point of view," and suggested they "should not necessarily become a norm."
This emphasis on allowing these unions on a "pastoral" rather than official basis could be a reference to several Catholic priests in Germany who have recently openly blessed same-sex marriage in a direct confrontation with their diocese.
Francis made it clear he does not sanction any ecclesial structure officially blessing these unions. And his written remarks do not change anything officially; the last such guidance came in 2021 when the Congregation for the Doctrine of the Faith wrote a letter saying same-sex unions should not be blessed, something it would not have done had the pope felt differently.
Furthermore, Francis has as yet not chosen to issue a formal decree — such as a type of papal document called a motu proprio — which would signal a more official swing in the direction of the church.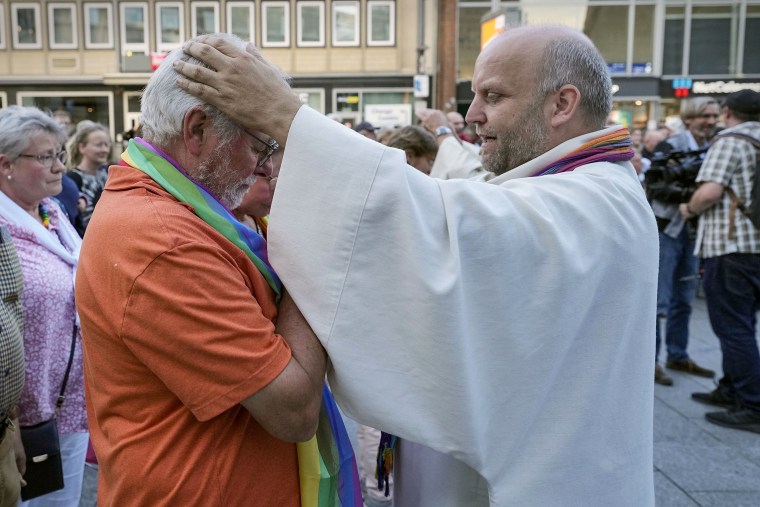 Nevertheless, his remarks have been seen by LGBTQ Catholics and other progressives as a momentous step in the cause of equal rights within the church.
"Though the Vatican's latest statement about same-gender couples does not provide a full-fledged, ringing endorsement of blessing their unions, the document significantly advances Pope Francis' work to include and affirm LGBTQ+ people," said Francis DeBernardo, executive director of New Ways Ministry, an advocacy group based in Maryland seeking justice for LGBTQ Catholics.
It "implies that the church does indeed recognize that holy love can exist between same-gender couples," he said in a statement, describing it as "one big straw towards breaking the camel's back of the marginalized treatment LGBTQ+ people experience in the Church."
The timing of the debate is significant, according to New Ways Ministry. Although the five conservative cardinals asked their questions in July, the letter has been published right before the Synod on Synodality, a meeting at the Vatican in which LGBTQ issues are on the agenda.
Francis, 86, who has encountered a number of health problems in recent years, is no stranger to progressive causes, having become a leading voice on issues from the climate crisis to refugees. On same-sex issues, he was asked months into his papacy about the sexual orientation of priests, responding: "Who am I to judge?"