If you're pregnant in Bonner County, Idaho, you'll likely spend a lot of time on Route 95. 
Bonner General Health, a 25-bed hospital, discontinued obstetrics, labor and delivery services this year. So for residents, Route 95 is the way to the closest in-state hospital with obstetrics care, which is at least an hour's drive south — or longer in the snowy winter.
The hospital, which staffed the county's only OB-GYNs, cited the state's "legal and political climate" as one of the reasons it shuttered the department. Abortion has been banned in Idaho, with few exceptions, since August 2022.
Laura Olin, 32, lives in the city of Sandpoint, where Bonner General is, and gave birth to her twin boys at the hospital in 2020. When she became pregnant again, she opted to deliver her daughter in Spokane, Washington — 90 minutes away — in August.
As the reality of doing the drive while in labor set in, she said, "it was very scary those last few weeks of pregnancy."
It made her think differently about her previous birth experience, Olin added. "To go into labor at home and arrive at the hospital five minutes later was a blessing that I didn't know was a blessing," she said.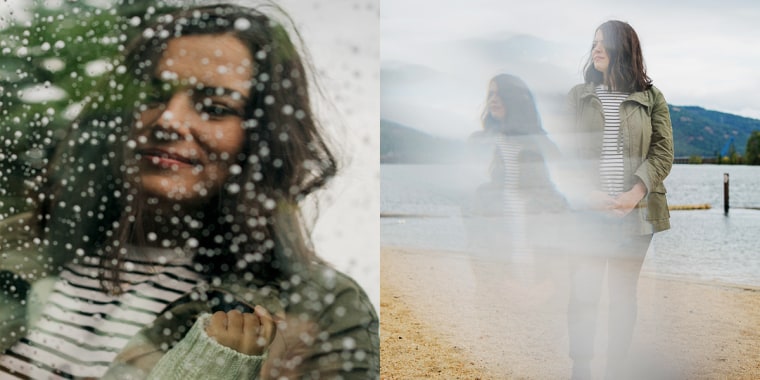 The four OB-GYNs who previously worked at Bonner General, meanwhile, have left Idaho to practice in states where abortion is legal. All four told NBC News that the state's ban contributed to their decisions to move. 
As a whole, the situation has left mothers-to-be in Bonner County to contend with an unexpected consequence of their state's abortion policy: reduced access to medical care for women whose pregnancies are very much wanted. 
Olin is one of a half-dozen pregnant or recently pregnant women who spoke to NBC News about how the closing of Bonner General's maternity department upended their birth plans and disrupted their lives. They say further travel times have introduced logistical burdens, financial difficulties, stress and anxiety. 
"I really feel like it's inevitable that there will be poor outcomes for women and babies who now have to travel longer to care in those emergency situations," said Elizabeth Smith, 35, a lactation consultant in Bonner County who has opted to deliver her baby — due in December — at a nearby birth center with a midwife. Delivering with a midwife is the only local option left in Bonner County.
Smith said that as a former neonatal intensive care nurse, she would have preferred a hospital but that traveling for appointments and labor would require someone to watch her four children. 
"I don't feel like that was an option for me given my large family and the need for child care," she said.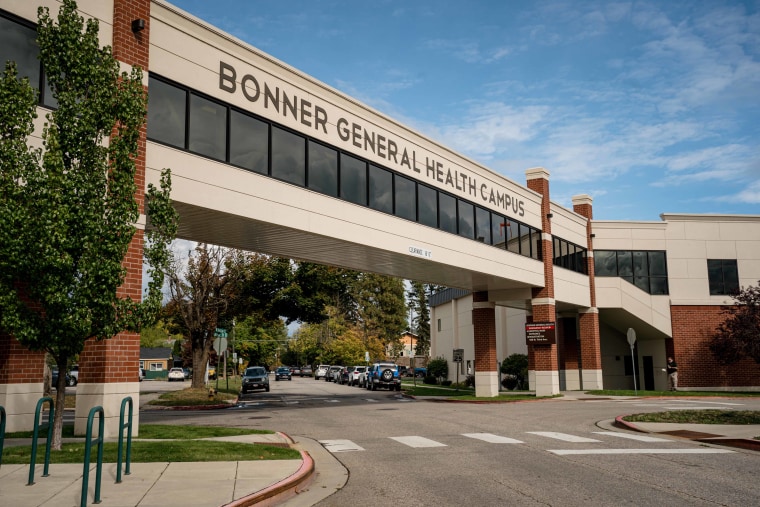 Research has shown that women who lack access to hospitals with obstetrics care are more likely to face health consequences, including a higher risk of preterm birth, which is associated with asthma, hearing loss, intellectual disabilities and other lifelong impacts for children. An analysis published in 2019 found that rural residents had a 9% greater chance of maternal morbidity and mortality compared to urban residents, in part because of limited access and longer travel times to obstetrics care. (Women of color had at least 33% higher odds of those negative outcomes than white women regardless of where they lived, according to the research.)
Olin, a supporter of abortion rights, said the ripple effects of Idaho's policies still caught her by surprise. She decided to cross state lines to deliver her daughter, she added, out of fear that abortion restrictions could affect her care if complications arose.
"When it actually affected my pregnancy, I couldn't believe that that was happening," Olin said. 
Her former OB-GYN at Bonner General, Dr. Morgan Morton, who now practices in Washington, said many of her former patients — including those with opposing political views to Olin's — shared that reaction.
"I definitely have patients that I know would've been in support of these laws and now are very surprised at the downstream effects," she said. 
'In case of an emergency, what do I do?'
Bonner General announced the closing of its obstetrics department in March, citing a lower patient volume and the loss of pediatricians as factors in the decision, alongside what a spokesperson recently described as "some of the most restrictive reproductive laws in the country."
Idaho law prohibits abortion at any stage, with exceptions only to save the life of the mother, ectopic or molar pregnancies and cases of rape or incest in which the incidents were reported to police and the pregnancies are terminated within the first trimester. In April, the state also became the first to criminalize some out-of-state travel for abortion, with a law that makes helping a minor cross state lines for that purpose punishable by two to five years in prison. 
In a statement to NBC News, the Bonner General spokesperson said that the services were eliminated with "a heavy heart" and that hospital providers worked with patients to coordinate alternative plans and make the transition "as easy as possible."
"We hear the community and want desperately to meet their needs," the spokesperson said.
Many former Bonner General patients now go to Kootenai Health in Coeur d'Alene, which is the closest in-state hospital with OB-GYNs on staff. It is more than 40 miles from Sandpoint. In June, Kootenai Health recorded its highest number of births ever, according to Kim Jorgensen, the hospital's director of women's and children's services.
"When this closure was announced, we were getting a lot of calls from women asking, 'What do I do?'" Jorgensen said.
Candice Funk, 34, is one of those patients. She moved from California to Sandpoint — and got pregnant — around the time Bonner General stopped providing obstetrics care. 
Funk developed HELLP syndrome — a rare and life-threatening form of pre-eclampsia — during her last pregnancy, so this one is high-risk. That means she most likely would have had to go to Kootenai for her delivery and some appointments anyway. Even so, she said, there's a persistent worry: "In case of an emergency, what do I do?"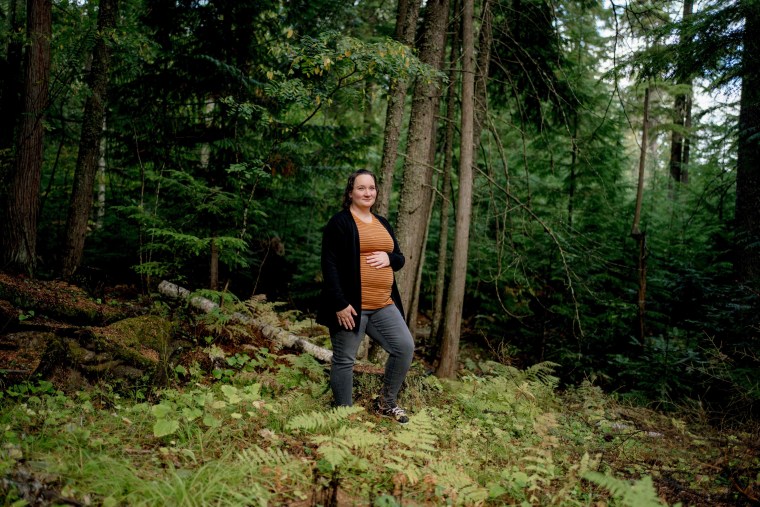 During her previous pregnancies in California, Funk was a 20- or 30-minute ride from the hospital, she said. This time, she's prepared to stay at the Ronald McDonald House — or an affordable hotel — in Coeur d'Alene if she needs more frequent monitoring.
"I know how drastic my conditions can be," she said. "Hopefully it won't be a surprise if something happens overnight." 
Sandpoint resident Lauren Sanders, 34, who's due to deliver her second child in November, faced the type of situation Funk fears this summer: For a few days, she didn't feel fetal movement. 
So Sanders got in the car for a "really intense" 45-minute ride to Kootenai. Throughout the drive, she said, she kept wondering: "Is my baby still alive?" 
The drive to Bonner General would have taken five minutes.
The Kootenai doctors determined that everything was fine and released Sanders after some monitoring. But if something goes wrong during her planned home birth with a midwife, she might wind up on another agonizing ride.
"I've had to get comfortable in the discomfort in having a 'riskier' birth at home," Sanders said.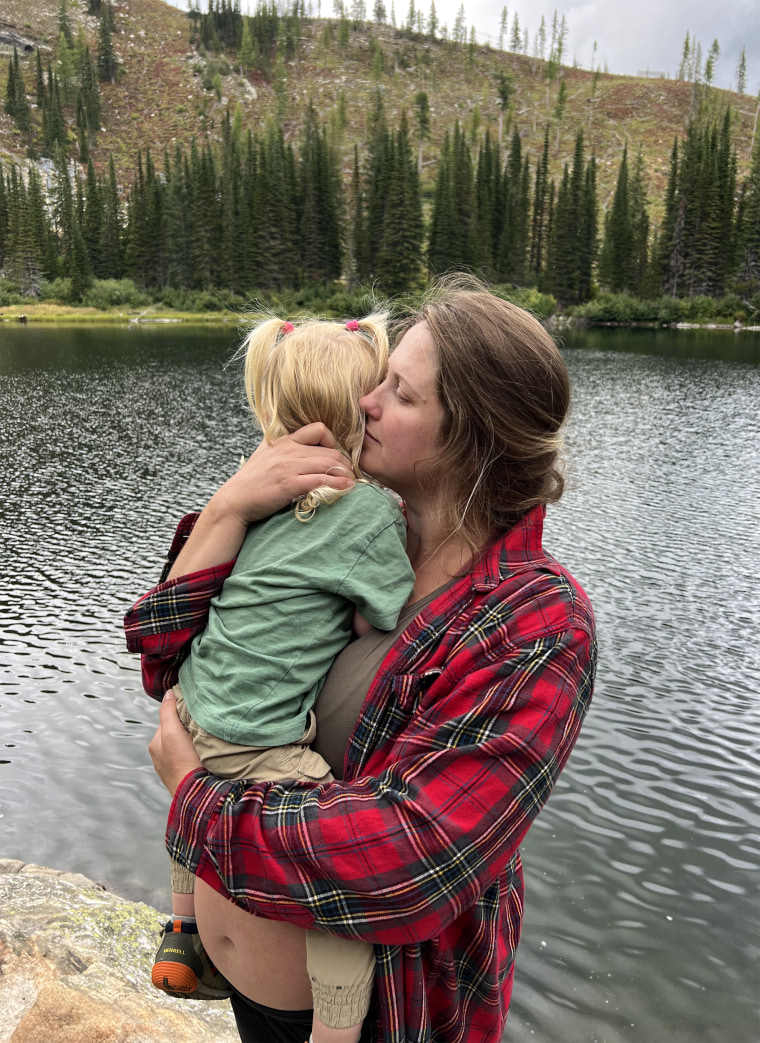 Chronic, elevated stress and anxiety during pregnancy are associated with a higher risk of high blood pressure and heart disease for the pregnant woman, preterm birth, and asthma and behavioral problems in young children, studies suggest. 
Financial burdens further impede access to care
Katie Bradish, 36, said she shells out hundreds of dollars to go to prenatal appointments in Spokane, 90 minutes from her home. Each trip requires her to take time off her job as a vice president at a grilling supplies company, she said, and pay $200 for a babysitter to watch her 2-year-old daughter, plus gas money.
In May, early in her pregnancy, Bradish began feeling sharp abdominal pain and decided to go to the Bonner General emergency room because of the distance she would have had to drive to reach an OB-GYN's office. The visit, which included an ultrasound scan and exam, showed no major problems, and she later received a bill for more than $475 out of pocket. The copay for an ultrasound appointment with an OB-GYN would have cost her $23, she said.
"It's absolutely a burden," Bradish said. "This is thousands of dollars we would have in our family's economy." 
For low-income residents of Sandpoint, such travel brings particular challenges. Around 14% of the city's population live in poverty, which is above the state and national averages.
Drs. Amelia Huntsberger, Kristin Algoe and Lindsay Conner — former Bonner OB-GYNs who now work in Oregon, New York and Colorado, respectively — each said some of their Sandpoint patients had to start strategizing about whose car they could borrow or how they would pay for gas to travel for maternity care after the department closed.
Huntsberger, who was on the Idaho Health and Welfare Department's now-disbanded Maternal Mortality Review Committee, emphasized that poverty and maternal mortality are intertwined. In Idaho, she said, Medicaid recipients accounted for the majority of pregnancy-related deaths in recent years. Despite the committee's recommendations to expand postpartum Medicaid coverage to last 12 months, Idaho was one of just three states where legislators finished this year's session without doing so.
"A lot of those people for whom it's going to get harder, they don't have a lot of power," Huntsberger said. "There's no microphone readily accessible to them, so many of them are going to suffer in the shadows." 
Losing 'personal' care 
Olin said her birth experience in Spokane made her miss the care she got at Bonner General, where Morton was present throughout her 16-hour labor. At one point, the doctor even made a peanut butter and jelly sandwich for Olin's husband, who is vegan and didn't have anything to eat.
"They took such great care of us," she said. "The care was personal." 
Krista Haller, a therapist in Sandpoint who works with pregnant and postpartum women, said she has heard similar sentiments from many local moms. Some lament the impact on their former doctors, Haller said, telling her: "These people are wonderful. They helped me so much in this very specific time of my life, and now they're being hurt by these laws." 
The Bonner General spokesperson wrote that hospital leaders "support our providers who made the hard decision to move." 
Haller said she has also counseled local mothers who are thinking about getting pregnant again but worry about doing so without easily accessible obstetrics care.
"It's a lot scarier, and they're a lot more aware of the decision to have a child and whether or not it's worth it to move forward to have a child and go through that journey knowing that the health care just isn't there," she said.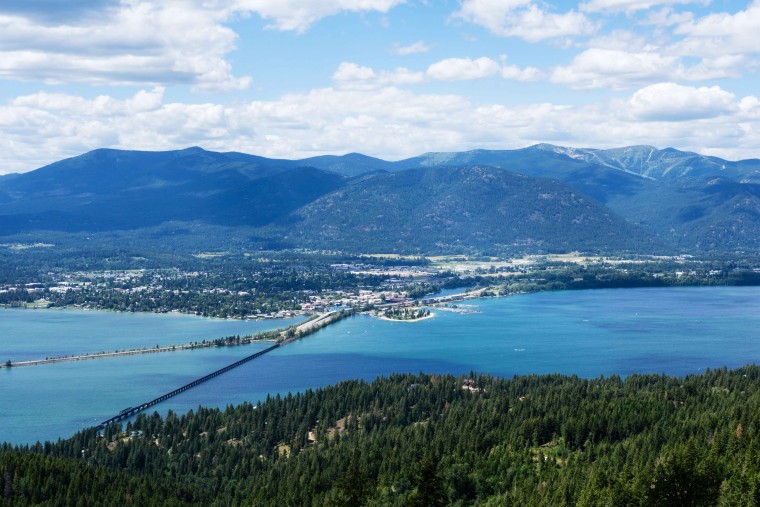 Bradish said her biggest fear is about the timing of her due date in January — what she calls "blizzard time," given that Sandpoint can get more than 30 inches of snow that month.
She plans to stock up on "shower curtains and some rubber gloves for the car," Bradish said, in case she winds up delivering on the drive to Spokane.
"That may sound like a joke, but it's not," she said.
Because Sandpoint has a birth center and local midwives, the area isn't technically among the more than 1,100 counties nationwide considered to be maternity care deserts by the nonprofit organization March of Dimes. Such places lack hospitals providing obstetrics care, birth centers, OB-GYNs and certified nurse midwives. In addition, an OB-GYN from the Kootenai Clinic began traveling to Sandpoint once a week in August to make it easier for residents to attend prenatal appointments and access gynecological care. That doctor sees nearly 30 patients a day in Sandpoint, a hospital spokesperson said.
But 13 of Idaho's 44 counties are maternity care deserts. The number of those deserts has risen nationwide in the past few years, according to March of Dimes. They're more likely in states that have banned or restricted abortion, according to an analysis from the Commonwealth Fund, a healthcare research foundation.
The month Bonner General made its announcement, another Idaho hospital, Valor Health, announced it was discontinuing labor and delivery services because of staff shortages, declining births and financial difficulties. A hospital in Oregon stopped providing obstetric services in August, as did one in Tennessee this month and four hospitals in California so far this year.
Is Idaho a 'canary in the coal mine'?
The former Bonner General OB-GYNs are not the only doctors choosing to practice in states without strict abortion bans.
A survey of third- and fourth-year medical students conducted this spring found that nearly 58% reported being "unlikely or very unlikely to apply to a single residency program in a state with abortion restrictions." Data collected by the Association of American Medical Colleges shows that states with abortion bans had a 10.5% drop in applications for OB-GYN residencies this year.
About 40% of OB-GYNs in states with abortion bans say they've felt constraints in providing necessary medical care since the Supreme Court's Dobbs decision, which struck down constitutional protections for abortion, according to a survey published in June by the nonprofit research organization KFF. More than 60% said they're concerned about legal risk when they make decisions about the necessity of abortions.
Carole Joffe, a professor of obstetrics and gynecology at the University of California, San Francisco, said she sees Idaho as "the canary in the coal mine."
"We will continue to see doctors fleeing these states that have banned abortion," Joffe said.
Idaho state Sens. Todd Lakey and C. Scott Grow, the Republicans who co-sponsored Idaho's abortion trigger ban in 2020, didn't respond to requests for comment.
State Rep. John Vander Woude, who chairs the House Health and Welfare Committee and co-sponsored the trigger ban, said he and other Republican legislators did not foresee all the ripple effects of the law. "There needs to be clearer guidelines on what becomes criminalized," he said, as well as broader exceptions to protect the health of the mother, not just her life. 
"It's really hard, I think, right now, under the current language to recruit or try to keep them," Vander Woude said of the state's OB-GYNs. 
Idaho state Rep. Julianne Young, who also co-sponsored the ban, added that lawmakers this year already "took steps to clear up concerns over things such as ectopic pregnancies and provide more clarity for health care providers" and will continue to assess the medical community's concerns.  
Bonner General's former OB-GYNs said they didn't take their decisions to leave Sandpoint lightly. 
"Thinking about what our community has lost — that is gutting," Huntsberger said.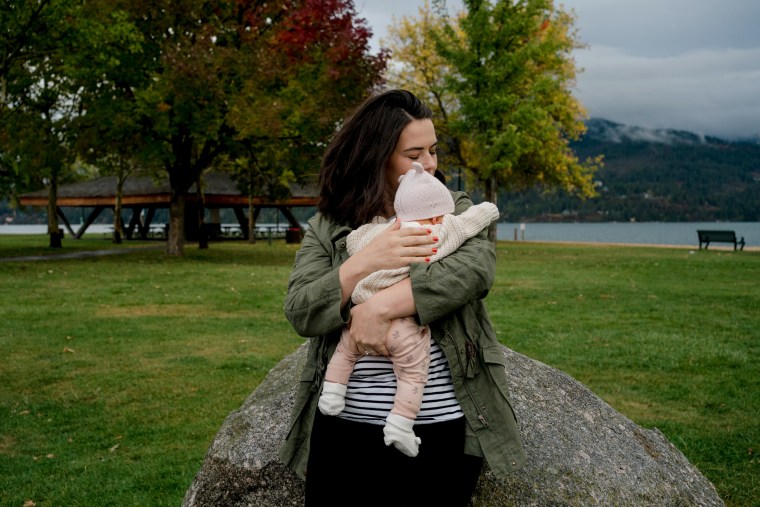 Olin and her husband plan to follow the doctors' example: They hope to move out of the state within the year. Idaho isn't a place where she'd want to be pregnant again, Olin said — or where she wants to raise a daughter.
"If you're planning to have a family, why would you move here?" she said.
This article was produced as a project for the USC Annenberg Center for Health Journalism's 2023 National Fellowship.