Police in Thailand arrested a 14-year-old suspected gunman after a shooting on Tuesday at a luxury mall in the capital Bangkok that authorities said killed three people and injured four others.
Chaos erupted after reports of gunfire in the late afternoon approaching peak shopping hours at the Siam Paragon mall, among the city's most popular shopping and leisure venues and a draw for foreign tourists.
Police said a 14-year-old suspected of being the gunman had been arrested and was being questioned. Emergency services shared an image of a police officer apprehending and handcuffing an individual lying face down on the ground and another of an officer retrieving a handgun from the floor.
Hundreds of people, including children, were earlier seen pouring out of the mall in Bangkok's commercial heart into torrential rain, according to videos on social media verified by Reuters.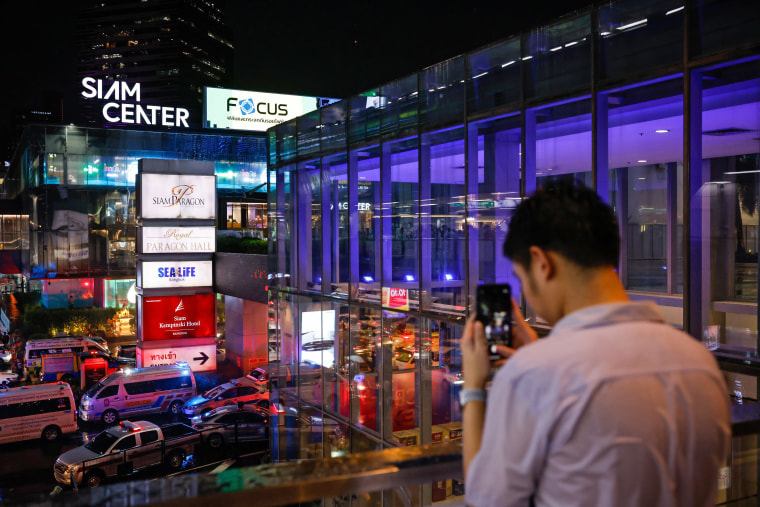 "It happened in just a few minutes. We saw all the people run, run, run, we didn't understand what was happening," said 26-year-old Shir Yahav from Israel, who was at a designer store at the time of the shooting.
"We went with them and then we heard several shots, like six or seven shots. We blocked the door of the store."
Gun violence and gun ownership are not uncommon in Thailand and the incident comes a year after an ex-police officer killed 36 people, including himself and 22 children, at a nursery during an hours-long gun-and-knife attack.
In 2020, a soldier shot and killed at least 29 people and wounded 57 in a rampage that spanned four locations around the northeastern city of Nakhon Ratchasima.
The Central Investigation Bureau earlier posted a grainy image on its Facebook page of the suspected gunman dressed in khaki cargo pants and a baseball cap.
Siam Paragon is Thailand's most famous mall, drawing large numbers of people with its high-end stores, aquarium, movie theatre and hugely popular food court dining.
In 2013, it was named the world's most photographed place by Instagram.
Prime Minister Srettha Thavisin expressed concern over the incident.
"I am aware of the shooting event at Siam Paragon ... I am most worried about public safety," he posted on X social media.
A large number of people milled around the streets outside and on elevated walkways after the incident, which took place in a bustling commercial zone that connects with an elevated rail network and a series of other malls.
Susinee, a 35-year-old restaurant worker, said she and her colleagues bolted out of their Japanese ramen outlet when they heard gunshots.
"We just ran out," she said, standing with half a dozen of her colleagues.
The mall said it had evacuated shoppers and staff immediately, stressing safety was of the utmost importance.
"Siam Paragon would like to express our deep apologies for the unexpected event," it said in a statement.
"Authorities have been able to control the situation and arrest the culprit."